Charlie
Charlie is our NMC Registered Nurse and qualified Aesthetics Practitioner.
FREE PARKING • 10 MINS FROM CANTERBURY • 30 MINS FROM MAIDSTONE • 45 MINS FROM LONDON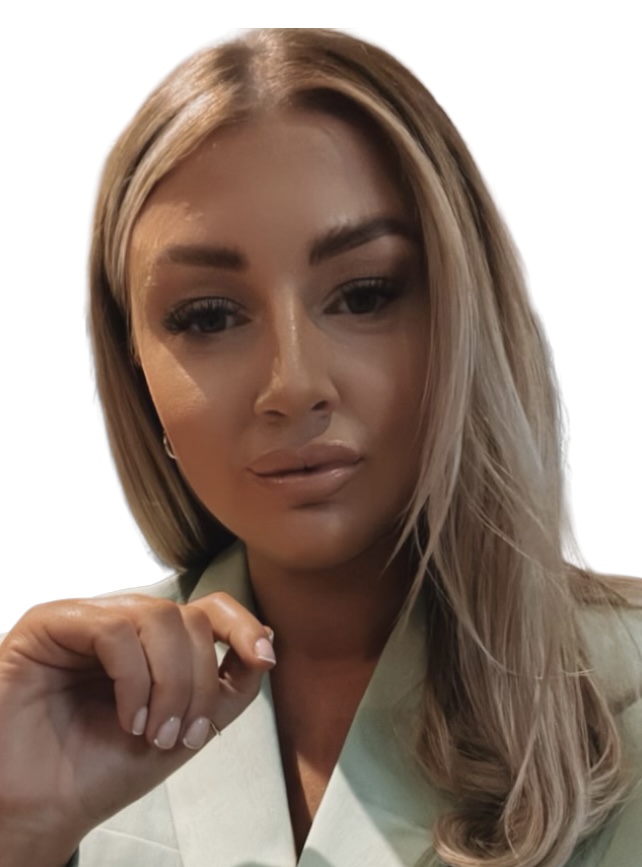 meet Charlie
Charlie is our NMC Registered Nurse and qualified Aesthetics Practitioner. She qualified with a BSc in Adult Nursing in 2021 and still works in an Acute Medical setting.
Charlie completed her Aesthetics training at the prestigious Harley Street, London and is currently offering Lip augmentation, anti-wrinkle injections and vitamin B12 injections.
She is enthusiastic and is passionate about providing the very best care for her clients and promoting confidence is at the forefront of everything that she does.
As a Registered Nurse Charlie is trained to deal with any unlikely complications; acting in a calm but timely manner.
Lip Enhancement
0.6 ML – £90
0.8 ML – £120
1.2 ML – £160
Dermal Filler
(CHEEKS, JAW, CHIN)
Dermal fillers can be used to the sculpt the face in a number of ways. Cheek filler has proven to be a popular treatment, as our cheeks tend to lose volume with age. Dermal filler placed in areas's such as the cheeks, jawline and chin can feminise the face, creating definition and sharpness, contouring and slimming the face.
2ML – £240
3ML – £290
4ML – £340
Dermal Filler
Tear Trough – £240
Tear trough is the area between your lower eyelid and cheek and as we age, we can experience volume loss in this area which can often cause dark circles and sunken under eyes. Placing dermal filler in this area restores volume and reduces dark circles under the eyes. Fine lines and wrinkles are also reduced as the dermal filler boosts collagen production and hydrates from the inside.
Nasolabial Lines – £160
The nasolabial lines are the deep crease running from either side of the nose down towards the corners of the mouth. Deep nasolabial folds can be corrected through injections of dermal filler into the surrounding area, restoring the lost volume and softening the appearance of these creases. The goal of nasolabial fold injections is to even out the skin volume, leaving you with a smoother, refreshed-looking appearance.
Marionette Lines – £160
These are the little lines that begin at the corners of your mouth and extend down your chin. By adding dermal filler, increasing the volume around the mouth and the chin, marionette lines will appear reduced and the skin will become smoother, creating a younger looking appearance.

Anti-wrinkle Treatment
One Area – £150
Two Area's – £180
Three Area's – £210
Smokers Lines – £150
Gummy Smile – £200
Masseter – £200
Hyperhidrosis
Men – £450
Women – £350
Profhilo ®
PROFHILO is an injectable anti-ageing treatment made from hyaluronic acid (HA) for skin that is losing its elasticity and firmness with age. There is an immediately noticeable improvement in skin tone, hydration as well as firmness, minimising lines.
With one of the highest concentrations of HA on the market it is not only boosting and hydrating the skin, but also remodels the ageing and sagging tissue. PROFHILO delivers great results as a treatment on its own or in combination with other aesthetics treatment's currently on offer.
Face – £250
Face Course (2) – £500
Fat Dissolving
Mesotherapy fat dissolving is considered a nonsurgical alternative for removing unwanted fat. Put quite simply, it's an injection administered to problem areas in the body that works by dissolving stubborn fat. The technique uses very fine needles to deliver a series of injections designed to target localised fat deposits. This treatment is intended to complement a healthy lifestyle, which means patients should aim to maintain a balanced diet and exercise routine alongside injections. A course of this treatment is recommended for optimum results.
Small Area – £90
Large Area – £150
Small Area Course (4) – £340
Large Area Course (4) – £380
Vitamin B12
If you're constantly feeling tired & fatigued, you may benefit from a dose of B12. Book your B12 injections now to increase your energy. Vitamin B12 is an essential vitamin that supports the functions of the body.
Single Dose £25
Five Treatments £100